Done!
Not sure about it totally. But then I am not used to the loose fit in the body.
I have, however, learned how to work the timer on my camera! The only place I felt confident about non-distracting background was the stairs in the front hall! Placed the camera on the shelf in the corner, pressed all the buttons, dashed to the step, posed and smiled. Then repeat 5 times till you get a photo where you look good and the garment looks good all at one time!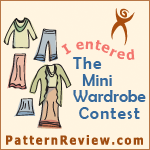 The badge. I nearly forgot to sign up!